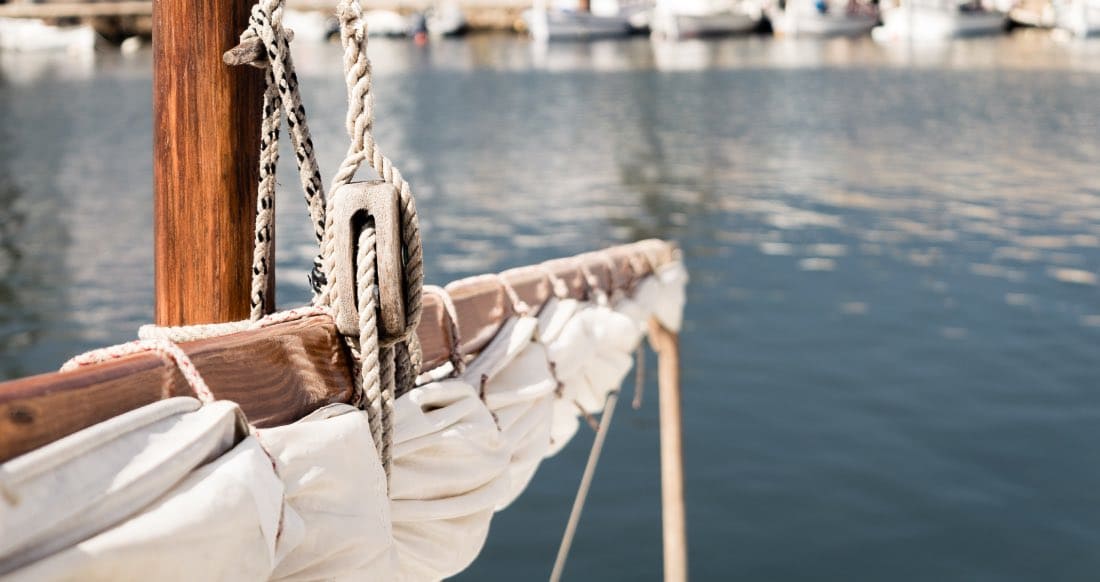 Restaurant in Fornells, Menorca
A traditional restaurant in Fornells
El Pescador Restaurant opened more than 25 years ago in Fornells. Since then, many thousands of diners have passed through the restaurant including as many locals as tourists from a large number of nationalities.
Such is the tradition of this place – that at this very location under another name – it was the very first restaurant in Fornells that started to serve Lobster Stew to its diners.

Offering the most traditional dishes of Fornells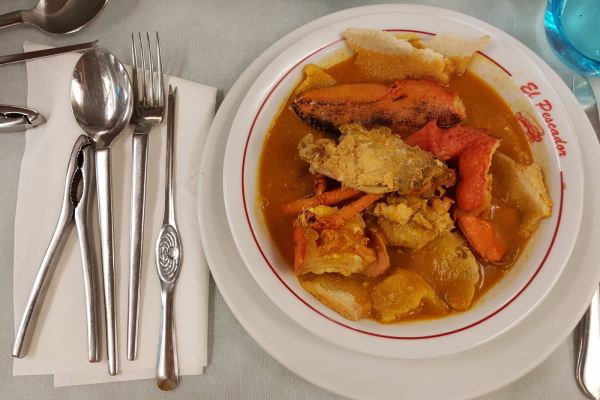 Lobster Stew – the dish par excellence of restaurants in Fornells (la caldereta de langosta)
Lobster Stew is the most symbolic dish of the island and an essential one to try if you love seafood.

Lobster from Fornells is very special and it has a great seafood flavour. This is due to the region where the lobsters naturally breed, a rocky area in the north of the island.
At El Pescador, our Lobster Stew is made from fresh lobster which are caught daily in Fornells and then kept alive in our very own restaurant tanks.
Bogavante Stew is also a very special dish and served in many restaurants in Fornells. (Caldereta de Bogavante)
Although Lobster Stew is the most popular and typical dish of Menorca, and as such the most popular in Fornells, we also offer Bogavante Stew on our menu.
This stew also has a rich seafood flavour, as the seafood is found naturally in the rocky areas of Fornells.
Just like our Lobster, we also offer fresh Bogavante so our clients can enjoy a delicious flavour of the sea.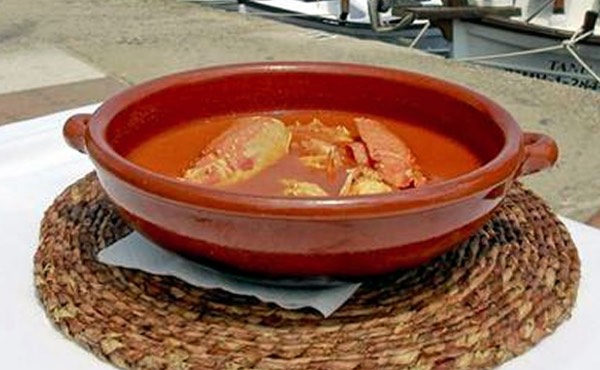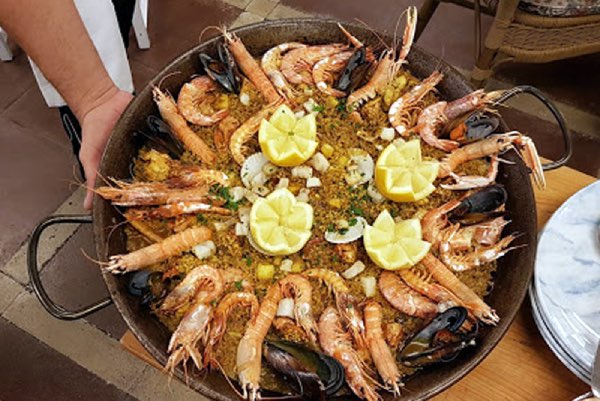 ¿Paella? Of course! We offer Paellas made from both Seafood and Meat. This is also a very popular dish in Fornells and served in our restaurant.
Paella is another one of our specialities. On our menu, we offer Paellas made with Seafood, Meat or both.
It is a dish that we prepare fresh with the highest quality ingredients. Paella is one of our favourite dishes and it is also one of the star dishes amongst our clients.
Here are just some of the other dishes we also offer: Paella with Lobster, Bogavante, Seafood, Soup with Rice with Bogavante or Lobster, Black rice with cuttlefish and seafood, Risotto…
Do we serve meat in our Restaurant? Of course. In Fornells, you can also try some of the best meats from the island.
Although Fornells is a seaside town, you can also taste some of the best meats from the island in our restaurant.
Sirloin and Steak both Pork and Veal, Veal escalopes, Veal Beef Steak, Pigs Trotters, Pork ribs, Shoulder of Lamb….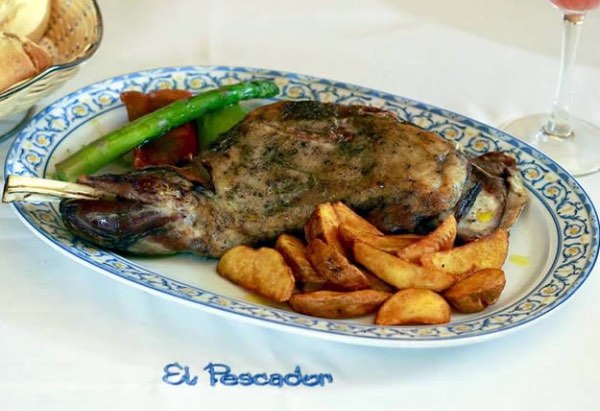 A Restaurant with Beautiful sea views
Eating in front of the sea has great benefits.
It goes without saying that what we eat will seem even more appetising. Eating by the sea is very relaxing, and so we are able to enjoy our meal even more, as well as the good company of our friends and family.
We go to a restaurant to relax and to enjoy good food. To be by the sea and in this case, in front of the bay of Fornells, this means that our experience is even more enjoyable.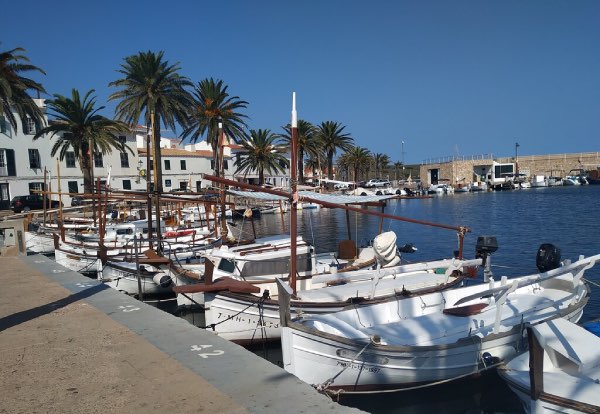 Reviews of El Pescador Restaurant in Fornells
Without a doubt, the most important thing for us is to offer a very good experience to our clients. Every year we open our restaurant with the illusion of seeing our regular customers again and, of course, welcoming new customers.
Word of mouth is, and continues to be, very important. A large number of our new customers come to the restaurant thanks to recommendations and we are very proud of this.
Here are a few of the reviews on Tripadvisor.
Genial Comida excelente en familia comimos caldera de langosta y rodaballo plancha nunca había comido tam bien el personal muy amable...More
Paella 🥘 Gran cantidad para dos personas. Buen sabor y buen servicio. Los precios rondaban la media de la zona
El Pescado Love this restaurant, food is always delicious. Great place to have lunch and watch the world go by.
veronique_pereira-Vi
2022-04-30
restaurant délicieux un repas délicieux, en famille. les paella étaient vraiment savoureuses, le cebiche également. merci!
No hay uno sin dos... Restaurante ubicado en la flor y nata del Paseo Marítimo de Fornells, donde la invitación para entrar a comer (previa...More
Arroz genial El Pescador es un restaurante perfecto para comer un buen arroz ya que tienen una gran variedad de arroces en...More
Espectacular Estábamos comiendo en familia y lo pasamos genial, el camarero que nos atendió es muy amable. Lo volveremos a repwtir
Maps39522097558
2021-07-27
Great location and food Fornells offers many restaurant choices. El Pescador offers great views from the roadside tables, that together with the menu determined our choice for lunch. The food was the best we have had so far in Menorca, this being Day 9 of our holiday. Previous restaurant...M visits bring in Mahon and Arenal. My wife had really good prawns in garlic while I had fried vegetables in Menorca Cheese. Delicious. We than shared a meat only paella which was also very tasty. Washed down by a house white this was a nice way to enjoy lunch. The restaurant was busy and service not the quickest , but we were not in a hurry so that was not a problem. It was the most expensive meal so far but the quality justified the price. I would certainly use El Pescador in the future.
Brigitte Ollivier
19/06/2022
Excellent plat filets de bar et gambas. Nous recommandons. Très accueillant
joao carlos oliveira
16/06/2022
Exelente restaurante, com uma bela caldereta de langosta, 5* numa ilha que é o Paraíso.
Cátia Romão de Oliveira
16/06/2022
Caldereta de Langosta 5*
Siempre venimos a este restaurante por la.paella por que nos parece espectacular . De lo que hemos probado en 13 años calidad precio de lo mejor! Hace dos años bajo el nivel un poco pero este año hemos vuelto a tener ese sabor increíble! Un 10
Laurent Pecquery
09/06/2022
Très satisfait un peu onereux mais la qualité et le service le mérite.
Antonio Garcia Garcia
07/06/2022
Fantástico
Muy bueno
Ristorante immerso nel bellissimo paesetto di Fornells. Menù molto vario: ottima zuppa di aragosta, paella di aragosta e quella misto mare. Personale gentile in particolare un cameriere molto simpatico che ha anche organizzato un mini festeggiamento per un nostro amico per il compleanno. Assolutamente da provare!!!
Book your table at our Restaurant and enjoy the views and the typical dishes of Fornells.
Directions to our Restaurant in Fornells